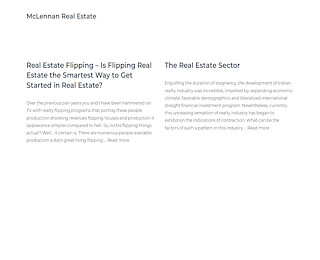 Contact our team at McLennan when looking for a Melbourne property for rent. We have apartments, townhouses, studios, and homes throughout all of Melbourne to suit many needs. You can begin a new property search using the free tools on our website- or just give us a call for more personal help in finding a place.
Real Estate Giants in Melbourne
For more than 75 years, McLennan has been a leader in the real estate industry, connecting home buyers and sellers as well as landlords and tenants for mutually-beneficial relationships. We understand your search for the perfect rental space should include perks, amenities, and exclusive benefits that add real value to the cost of renting in Melbourne.
Setting Up Property Alerts
Set the parameters of your rental search, and we'll do all the work. Sit back and let our properties arrive in your inbox as they're available. If you're selective regarding your next Melbourne property for rent, simply narrow down the criteria on our search tools, and when something that fits your search becomes available, you'll be among the first to know. It's easier than you think to find the perfect rental in an exclusive neighborhood.
Work With a McLennan Agent
Experience the difference that comes from working with a knowledgeable real estate agent. Whether you're new to renting or you have prior experience with the details of finding a rental, you'll benefit tremendously by partnering with our team. We'll look over your financial history and current capacity to manage your rental obligations to ensure you don't overextend your budget. By working together as a team, we can find a rental that not only meets your needs but fits within your financial means.
A Higher Class of Rental
As a tenant living in a McLennan property, you'll have access to numerous amenities, including the ability to make maintenance requests over our website. We work with both parties for mutually-agreeable maintenance solutions that make it more enjoyable to rent. For urgent maintenance requests, call our office directly, and we'll help to get matters taken care of promptly. We desire that your McLennan property rental experience is one that is free from common issues other renters deal with on an ongoing basis.
Choosing the Right Community
We manage Melbourne property for rent in a wide range of neighborhoods and communities, including:
Aspendale
Clyde
Noble Park
Point Cook
Sunbury
Dandenong
Doncaster
Cranbourne North
And numerous other communities throughout Melbourne
Affordable Rentals in Melbourne
We can save you money by eliminating rentals that don't ideally fit your needs. Choose the number of bedrooms & baths in your lease, square footage, or price range and let us know what we can do to narrow down your options further. By finding a rental that meets your criteria, you'll end up paying less for a living space more closely suited to your lifestyle. Your journey starts with a new property search on the McLennan website or by calling a McLennan agent for assistance.
McLennan Real Estate Pty Ltd
397915922
118 Walker St
Dandenong
VIC
3175
AU