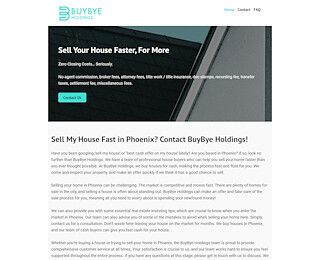 When selling your house, you should be aware of the process involved. If it's your first time, research as much as you can about the home-selling process since most listing companies are out there just to make a profit. At BuybyeHoldings, we are here to ease your burden by buying your property. You can sell house no agent, as-is, and we'll pay cash for it. We'll also help you put more money in your pocket since there are no extra costs involved and save you the time of putting your house up on the market.
Terms Used When Selling A House
When selling your property, it's important to understand the terms used. That will help in the house selling process.
 Cash Offer
This means that a property is bought and paid for in cash, so no financing is necessary. The money for purchasing the house is already available, so the buyer needs not to secure a mortgage. This option is appealing to many sellers, as one doesn't have to wait for long for payment. Here are other advantages of a cash offer:
Buyers don't have to go through appraisal and inspection processes since they are not securing a mortgage. This waiving of appraisal and inspection helps to sweeten the deal for the seller. If you're selling your home, you don't have to go through panic moments if the appraisal is too low. You also save on inspection fees.
Cash offers are a guarantee of payment because you don't have to wait and see whether a loan is approved for your potential buyer. Mortgage approvals are known to cause delays in contracts, but with cash purchase, you close fast.
Appraisals
If the buyer is on cash purchase terms, you'll not require an appraisal. But if a buyer takes a mortgage, an appraisal becomes necessary. An appraisal is used to prove whether your property is worth the price. If an appraisal fails, you may be forced to find another buyer or lower the price of your house. When selling your home without an agent, ensure you research well on the prices to have the correct value.
Inspection
Mortgage loans require a house to be inspected to make sure its habitable. For cash buyers, they forego the process and take the risk themselves. This becomes an advantage to you because the home-selling process isn't delayed while waiting for approvals.
Closing costs
This means all settlement or transaction charges beyond the actual cost of the property, which home buyers or sellers need to pay at the close of escrow when the property is transferred.
These typically include lender's fees and prepaid interest, prorated property taxes, transfer taxes, credit check fees, homeowners' and title insurance premiums, deed filing fees, real estate agent commissions, inspection, and appraisal, and attorney's fees.
Some closing costs are tax-deductible. The best deal for a seller is to find a buyer with zero or few closing costs.
Sell Your Home Fast
At BuybyeHoldings, we assist homeowners who want to sell their houses for whatever reason, even if their property requires repairs they can't afford. We'll make you a fair cash deal and close on it whenever you are ready to sell. If you're looking to sell house no agent, we're you're go-to company. With us, you're assured of no games, no commissions, and fast closings. For a seamless house-selling transaction, call us today on (480) 201 5533.
BuyBye Holdings
(480) 201 5533
44109 N. 47th Ln
Phoenix
AZ
85087
US